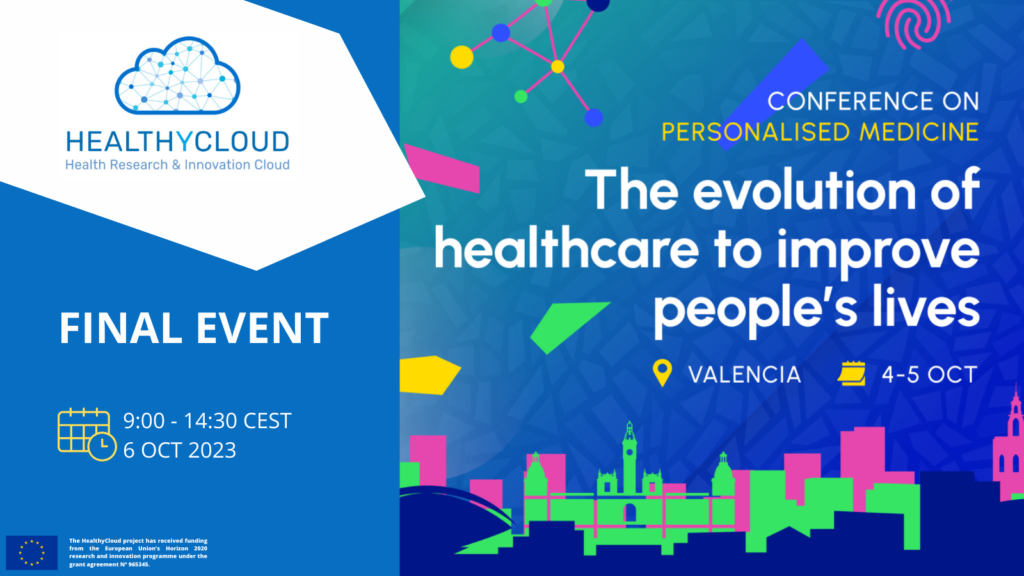 HealthyCloud is near its end and we want to share the outcomes of the project. During the final event, we will share with you the HealthyCloud Strategic Research and Innovation Agenda for the Health Research and Innovation Cloud (HRIC), and discuss the future directions to start building it up.

Juan González-García, PhD, Data Science & Biocomputing, Biocomputing Unit IACS
This final event is collocated with a High-level Conference on Personalised Medicine hosted by the Spanish Presidency of the EU Council, a great occasion to understand the European landscape where HealthyCloud and the HRIC will have their biggest impacts.
---
The event promises an engaging and inspiring program filled with informative sessions, interactive discussions, and networking opportunities. Participants will have the chance to connect with fellow consortium members and leaders in the field. Discover the agenda and check for updates below!
AGENDA
WELCOME
9:00 Registration – Coffee
9:30 Event opening
Alba de Martino, Research and Innovation Department Director, IACS
Salvador Capella-Gutierrez, INB Group Leader, BSC
Spanish presidency representative
Framing HealthyCloud in the European health data sharing ecosystem
9:45 EC perspectives and state-of-play on regulation and policy
DG CONNECT Speaker: Saila Rinne, Head of Sector (H3. eHealth, Well-being & Ageing)
DG SANTE Speaker: Fulvia Raffaelli, Head of Unit (C1. Digital Health)
DG RTD Speaker: Arjon Van Hengel, Deputy Head of Unit (D2. Health Innovations & Ecosystems)
10:45 Learnings and demands from the community
TEHDAS Joint Action Speaker: Elina Drakvik, Health data Specialist, Sitra
EOSC-Life as cluster project of RIs for Life Sciences Speaker: Niklas Blomberg, Director ELIXIR
Data Saves Lives Speaker: Gözde Susuzlu, Project Coordinator, European Patients Forum
11:30 COFFEE BREAK
HealthyCloud: dialogues around sensitive data analysis
12:00 Health and health-related data perspectives
Health data: where to find it? How to access it?

Speaker: Shona Cosgrove, Researcher, Sciensano
Participant: Elina Drakvik (TEHDAS)

Flexible and responsible manner. Is it necessary to mobilize data?

Speaker: TBC
Participant: Niklas Blomberg (EOSC-Life)

Ethical-legal framework for the secondary use of health-related data

Speaker: Davit Chokoshvili, Researcher, Luxembourg National Data Service (LNDS)
Participant: Gözde Susuzlu (Data Saves Lives)
12:45 Putting everything together
Unveiling HealthyCloud's Strategic Agenda for a Health Research and Innovation Cloud

Speaker: Jacques Demotes, Director ECRIN
Analysis and reflections
13:30 Closing of the event
The "y" between Health research and Cloud infrastructures – How to become the Health Research and Innovation Cloud

Speaker: Karel Luyben, Director EOSC-A

Open discussion on Strategic Agenda development

Speakers: Juan González-García & Salvador Capella-Gutierrez, HealthyCloud coordination TEAM, IACS & BSC
14:30 MEETING ADJOURNS
---
Join live session
On the day of the event, feel free to refer here for the link to join the live stream.
---
Location: Centro de Investigación Príncipe Felipe, Valencia, Spain